Yes, GoDaddy is a good hosting provider. It is one of the largest domain registrars in the market. However, it's just as big in the web hosting market, offering a wide variety of services, including shared, WordPress, VPS, and even dedicated hosting. Yet, there are quite a few GoDaddy web hosting reviews saying that GoDaddy is no good when it comes to hosting services.
You don't need any web development background to get started, either. Godaddy offers web builder which help you setup ypur website.
Here are the top things we liked about GoDaddy's hosting.
1. Great Page Load Time at 345 ms
This might come as a bit of a surprise:
Our GoDaddy test site has shown a great average page loading time as low as 345 ms over the past 6 months.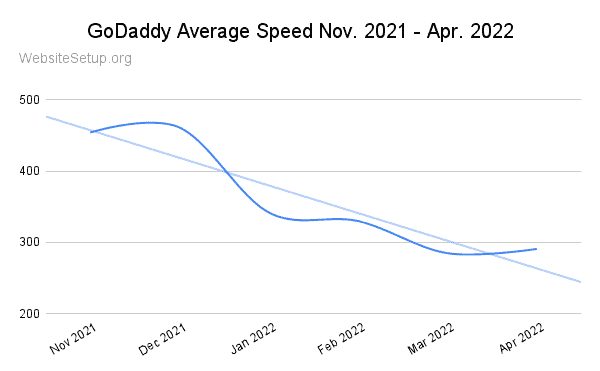 This is somewhat surprising because years ago you wouldn't associate cheaper web hosts like GoDaddy with performance as great as this.
And fast loading times aren't just for vanity.
As a matter of fact, studies have shown that slow loading times can cause your visitors to leave the site faster. In turn, this hurts your search engine rankings (especially on mobile) and, of course, negatively impacts your conversion rates.
Unfortunately, as you won't be able to change your web host's server speed, it's vital to consider it before signing up with a hosting provider. If your web host is slow on the server level then, sadly, your hands are tied.
Luckily, though, based on our tests, you won't have to worry about page speed with GoDaddy hosting.
2. Over 125+ One-Click Install Applications
GoDaddy will let you install some powerful third-party integrations to your website. In fact, you can add over 125 of the most popular applications on the Internet – with just one click. That includes content management systems like WordPress, Joomla, and Drupal.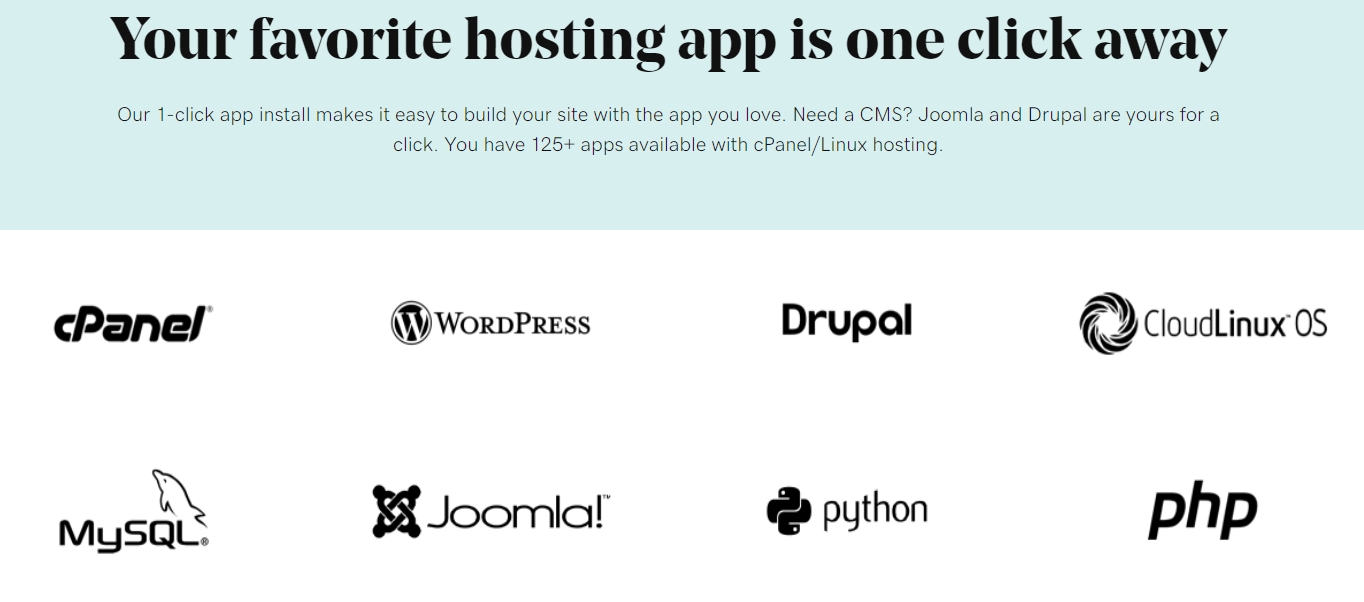 GoDaddy also includes developer-friendly tools like cPanel, MySQL, CloudLinux, Python, and multiple versions of PHP.
So, they have a good variety of options that suit everyone from beginning bloggers to more experienced web developers. What's useful for some beginners, is that they even have a drag-and-drop website builder, which comes with a separate pricing plan (starting from $9.99/mo), though.
3. Basic Cheap Plan is Good Value (for a Single Basic Website)
When we originally reviewed GoDaddy (in 2017), their cheapest shared hosting plan was too expensive, and the features were really limited. At least compared to the competition.
Now, though, it seems they've done a 180-degree turn. Currently, the Economy plan pricing is only $2.99/month with a 12-month contract.
But for such a low price, do you actually get any value?
Well, yes. You get one website, up to 100 GB of storage, and unmetered bandwidth. Also, you'll get a free domain with any annual plan, and free Office 365 Email for the first year. All these features are really useful and not every host offers them as part of their cheapest plan.
The overall value you're getting from GoDaddy's Economy Plan for a single basic website is good, considering that it's insanely cheap.
However, despite some remarkable features and a great price, you will have to make a few compromises with GoDaddy, too. It's only when you dig a little deeper that you realize it's not as good as it might seem. We'll discuss this more in detail in the next section.
4. Good Uptime at 99.97%
GoDaddy delivers quite average uptime on their shared hosting plans. Their 6-month average uptime is 99.97%.
An uptime rate of 99.97% means about an hour and a half of total downtime per year, which is not too bad compared to some other hosts we've reviewed (HostRocket!).
Last 6-month average uptime:
April 2022: 100%
March 2022: 99.91%
February 2022: 100%
January 2022: 99.96%
December 2021: 99.95%
November 2021: 99.99%
Throughout several years, their uptime has been consistently decent.
Cons of Using GoDaddy Hosting
---
Although the value for GoDaddy's cheapest plan seems good at first, you'll find some problems once you look closer.
In fact, their low prices somewhat contribute to the problems. Namely, the cheapest plan lacks a few important features and there are a lot of upsells throughout the checkout process. Also, the renewal pricing will be much higher than the first-term discount.
In addition to that, we didn't exactly enjoy GoDaddy's slightly confusing and vague money-back guarantee, either.
So, here are the biggest cons we found, discussed in more detail.
1. Base Plan Lacks Critical Features (No SSL Certificate, Security, or Site Migrations)
The top hosts we've reviewed will throw in features like an SSL certificate on every plan. In fact, these have become commonplace and are pretty much required to run a site today.
Unfortunately, GoDaddy doesn't offer any of the mentioned features in their base plans.
Let's take a look at SSL certificates for example. Unless you're already paying for GoDaddy's most expensive plan, this feature will cost you
In addition to all that, there's another common feature that GoDaddy doesn't offer for free:
Site migrations.
Again, many hosts will move at least one existing site over to their servers for free. Many of them can even do this within a few hours of asking so you don't have to wait around.
Not GoDaddy, though. They don't offer any free managed migrations. This feature will cost $99.99 per site and per database, and it takes 7–10 business days. So it's not just expensive but also slow.
If you add all of these extra costs up over the course of a few years then GoDaddy hosting doesn't look that cheap anymore.
2. Lots of Upsells
All the lacking features that we discussed above, lead to a lot of upsells during the signup process. In fact, GoDaddy has become somewhat infamous for upselling. The reason for offering so many upsells is to increase the final price that you're going to pay, as the initial plan prices are absurdly low.
The first upsell that you'll run into has got to do with the monthly cost of the hosting plan. Based on the duration of your chosen plan, the amount that you will prepay can vary greatly.
A short, three-month plan has a significant monthly cost: $10.99/month. So, for the best value, you might have to sign up for 12, 24, or 36 months instead.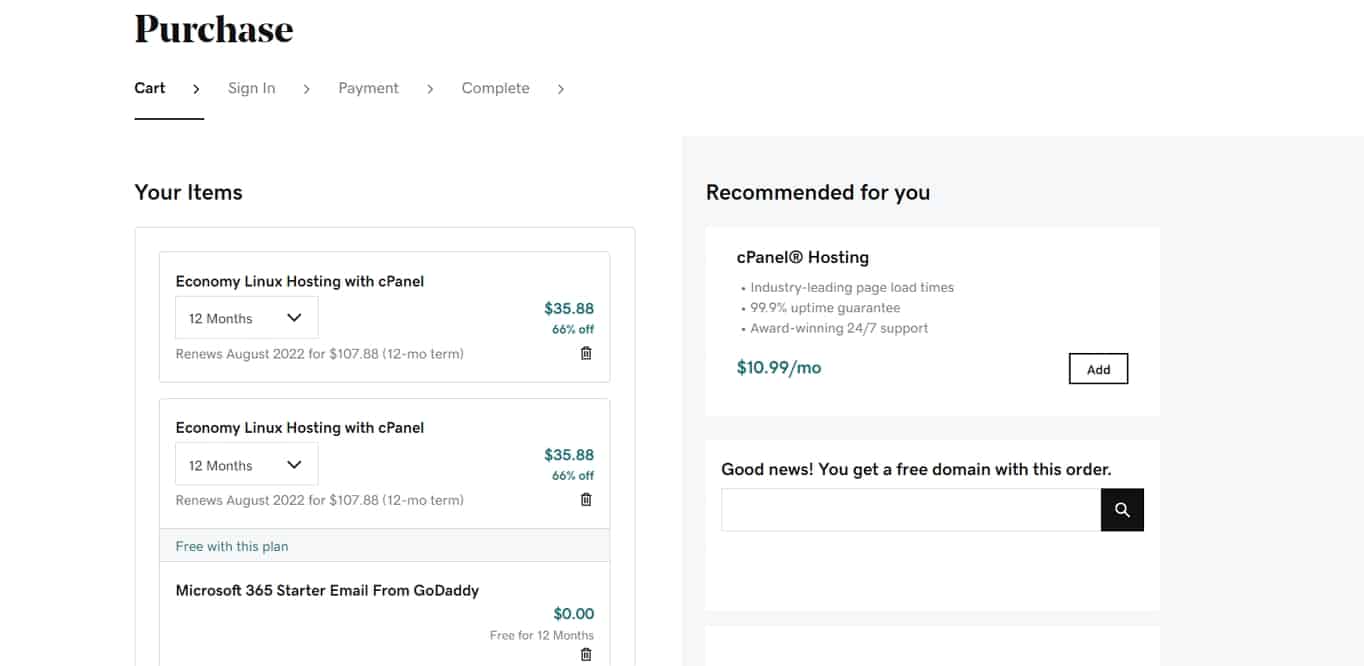 With such offers, you might be tempted to get a longer plan right away. But this means you'll have to invest a larger sum of money upfront, making a much longer commitment.
And this is just the first of many upsells.
As discussed above, you'll see upsells for SSL certificates, and "essential website security" which refers to malware scans and updates.
GoDaddy's checkout process can feel like a minefield, where you need to carefully watch each step before accidentally paying two or three times the initial price.
GoDaddy Pricing, Hosting Plans & Quick Facts
Here's a quick overview of GoDaddy's hosting plans:
---
Economy Plan
Deluxe Plan
Ultimate Plan
Pricing
$2.99/month
Renews at $8.99/mo
$7.99/month
Renews at $11.99/mo
$12.99/month
Renews at $16.99/mo
Websites
1
Unlimited
Unlimited
Bandwidth
Unmetered
Unmetered
Unmetered
Storage
100 GB
Unmetered
Unmetered
Email Accounts
Unlimited
Unlimited
Unlimited
Other Features
• Free Email for the 1st year (renews $23.88/yr)
• Free Email for the 1st year (renews $23.88/yr)
• Unlimited Subdomains
• Free Email for the 1st year (renews $23.88/yr)
• 2x Processing Power and Memory
• Free SSL Certificate
• Premium DNS
---
Quick Facts:
Money-Back: A slightly confusing 30-day money-back guarantee.
Website Migration: No free transfers. Cost for managed migration $99.99 per site. The migration will take 7-10 business days.
Free domain: Free for the duration of the initial annual plan (12, 24, 36 months, etc.).
Ease of Signup: Very easy signup.
Payment Methods: All major credit cards and PayPal are accepted.
Hidden Fees and Clauses: Somewhat confusing refund policy & terms such as "If a Hosting Service has already been performed, then it is non-refundable (if not yet performed, eligible for a refund within 30 days of the date of the transaction)."
Upsells: A lot of upsells. Price variation for the initial term length, site migrations, SSL certificates, security, and more.
Account Activation: Fast account activation.
Control Panel and Dashboard Experience: cPanel.
Installation of Apps and CMSs (WordPress, Joomla, etc.): Lots of 1-click installation options with the most popular open-source apps.
Do We Recommend GoDaddy?
Yes, we do.
GoDaddy has fast page loading speeds. They work well with the most popular web apps you would want. And the initial pricing for the cheapest plans is still good value despite lacking several important features.
GoDaddy offers many upsells for basic features that you'd assume were just included for free (SSL, security, etc.). Adding any one of these might double the cost of your plan. But together, they could easily end up costing you significantly more than other web hosting providers.
Their uptime is reliable.
So while GoDaddy's overall performance is good, they do have some drawbacks. However, they're still a trustworthy host.